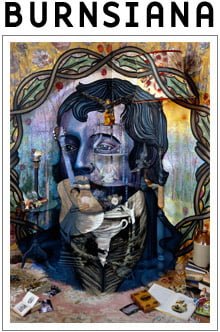 Contemporary mixed media exhibition Solo show of recent work by Calum Colvin
– Venue: Robert Burns Birthplace Museum, Alloway, Ayr, KA7 4PQ (Map) – Dates: 7 June – 15 September 2013 – Times: Every Day 10am – 5pm (Admission free)
---
Introduction by Janice Galloway A lad o pairts
I don't know if you have a just idea of my character, but I wish you to see me as I am. – I am, as most people of my trade are, a strange wil o' wisp being; the victim too often of much imprudence and many follies. – My great constituent elements are Pride and Passion: the first I have endeavoured to humanize into integrity and honour; the last makes me a Devotee to the warmest degree of enthusiasm in Love, religion or Friendship…
These are words Burns wrote about himself. It's a consolation after hundreds of years of bottling the man, trying to pin him down, that the man himself understood he was more than just one thing. Calum Colvin's blends – the photographic and the painterly, the traditional and surreal, the lasting and the ephemeral – have fascinated me from the first time I clapped eyes on his work. It was a portrait of James MacMillan, the stellar contemporary composer from Cumnock, Ayrshire: his face made of a perspective 3D trickery of objects that invited the onlooker's collaboration in assembling the disparate parts into the man. It was on exhibition in Edinburgh, the article said. I got my coat. There, I found not only one Ayrshire boy but two: beside MacMillan, another musician as stellar as they come: misunderstood, misaligned, shamelessly misappropriated by the Heritage industry, but whatever they did to him, wholly recognizable. It was Robert Burns. I grew up in Ayrshire so knew Burns as only a child from Ayrshire can: way too little, too reductively and for just one thing. He was who you did once a year for the school poetry competition whether you liked it or not. To a Mountain Daisy (served up as no more than a ditty about a flower), Address to a Haggis (served up as serious). Burns, in other words, reduced, hog-tied, compulsory. What Burns actually meant as opposed to signified to the national psyche took much, much longer for me to unravel. It involved reading the man's own words about himself as well as the poetry as poetry, not shamanic slogans. It involved reading him as a working author and man of his times like no other. It involved fiercely reclaiming him from a hundred tartan shortbread tins – and I was glad, glad, glad I did it. Burns, afresh, was a liberating discovery. Seeing him through Colvin's eyes was that fresh discovery all over again. Like a fine novel or an excellent collection of poems, the work suggested new ways of seeing not only the subject but the subject's context, the mythology grown around him without his compliance, and a homage to what might be the sum of these parts. This exhibition begins with Burns and wraps its arms around Burnsiana as bastard children the poet himself never conceived. Through everything, Burns rises serene, waiting for us to make him into something whole. Notoriously devout and rebellious; crude and tender, acutely aware of his lack of social standing and cocky; sure of his talent yet apprehensive of his ability to succeed, Burns is not so much a mass of contradictions as a mass of unresolved energies. Calum Colvin shines light not only on this but on all that surrounds it. In the increasingly fraught run up to our votes being cast for Scottish Independence, Now is indeed the Day, and Now indeed the Hour. How are we to find meaning in the complexities of our histories? How are we to interpret the melancholic past, acknowledge the present and aspire with honour, not cheap sentiment or mock heroics, to the future? Burns asked these questions. Calum Colvin reframes them now. The Bard himself is beyond caring what we think of him, if he ever did. What he'd prefer we care about is the work, its speaking to us. The tangle of the deeper, darker, childish heart. The wonderfully multi-layered work in this exhibition, as direct as it is allusive, is a great way to begin the process of that rethinking.
---
Sheilagh Tennant – Curator
"The way in which Calum incorporates so many different (influences and) disciplines into his work is truly innovative."
---
Calum Colvin – Biography Born in Glasgow in 1961, Calum Colvin was a winner of one of the first SAC Creative Scotland Awards and is a holder of a Royal Photographic Society Gold Medal. He was awarded an OBE in 2001 and is Professor of Fine Art Photography at Duncan of Jordanstone College of Art and Design, University of Dundee.